LaSegunda Training Video:
One of our capabilities is video creation and production for our clients who require additional platforms for sales or training purposes.  This video is a short clip of the work we performed to create a "Sales Training" program to increase our clients retail bakery and cafe sales.

Dining Out Radio:
We strive to provide "value added" public relations opportunities for our clients and created a "two for one" for two different clients with an appearance on a local radio show with a "dining out" theme.  The restaurant operator is a family owned and operated Italian cuisine casual dining operation and the industry vendor offers a custom "online ordering" platform.



St. Pete Saturday Morning Market "Taste Cart" program: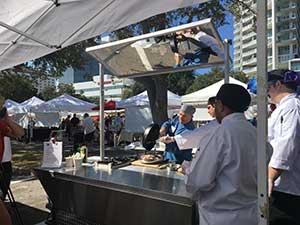 While we support our clients in their food service operations we also support the next generation through our volunteer mentoring efforts.  Here students from the St. Petersburg PTEC campus participated in a cooking and tasting demonstration at a local fresh market.
Pinellas Technical College culinary students from the St. Petersburg and Clearwater campuses prepared and served free samples of locally grown cuisine alongside taste cart curator, Tim Nicholson, and cookbook author, Mi Ae Lipe, at the St. Petersburg Saturday Morning Market on November 5. It is all part of a unique program to promote healthy eating using community sponsored agriculture that can be purchased at the popular morning market. PTC students prepared a Sauteed Radishes and Sugar Snap Peas with Dill recipe from the Bounty from the Box: The CSA Farm Cookbook, by Mi Ae Lipe. Dozens of visitors to the market enjoyed the student-prepared cuisine and the accompanying free recipe to make the dish at home.